Necronomicon!
The Necronomicon

Some attributes

Name
Necronomicon
Type
Item
The necronomicon is a book that will be your guide throughout the mod. You will use it to store research, cast spells, craft stuff and to look awesome.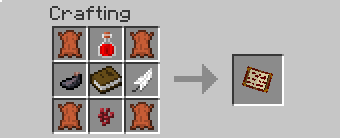 It requires 4 Leather, an inc sack, a feather, a netherwart, a book, and Blood in a Bottle
The Necronomicon originates from the Cthulhu Mythos, and it was created by H.P. Lovecraft .
Ad blocker interference detected!
Wikia is a free-to-use site that makes money from advertising. We have a modified experience for viewers using ad blockers

Wikia is not accessible if you've made further modifications. Remove the custom ad blocker rule(s) and the page will load as expected.